Super Trainer app for LiveChat!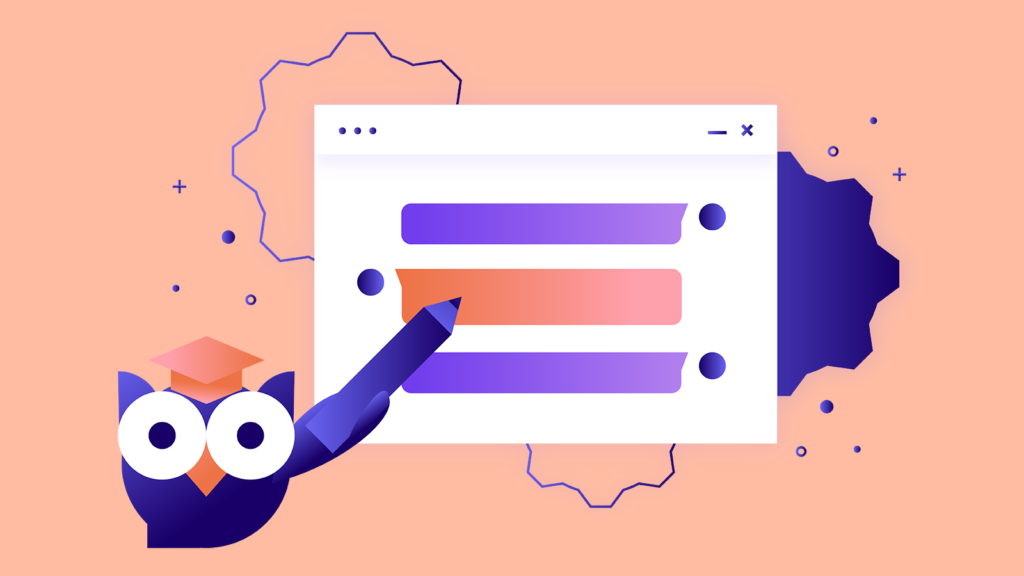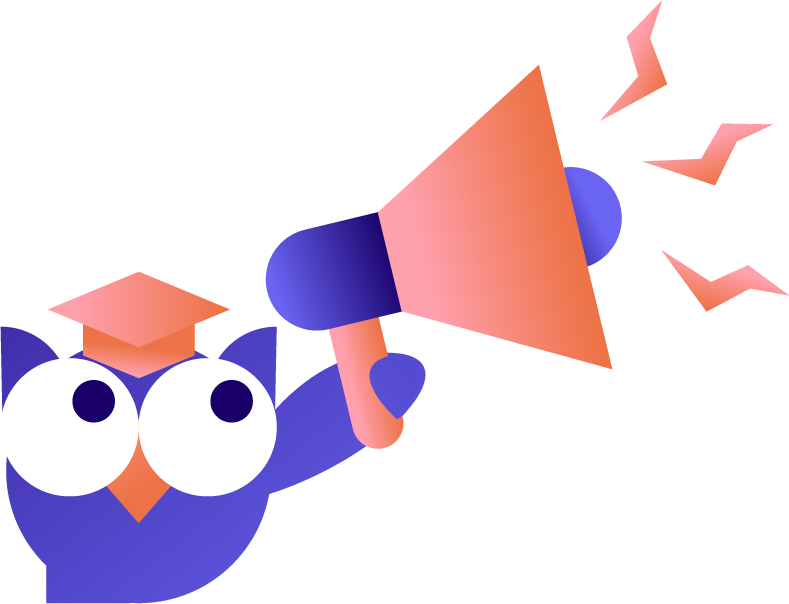 We would like to announce a significant update to our Super Trainer LiveChat extension. As part of our commitment to continually improve and enhance your experience, we are
transitioning Super Trainer to a freemium model. Find out more >>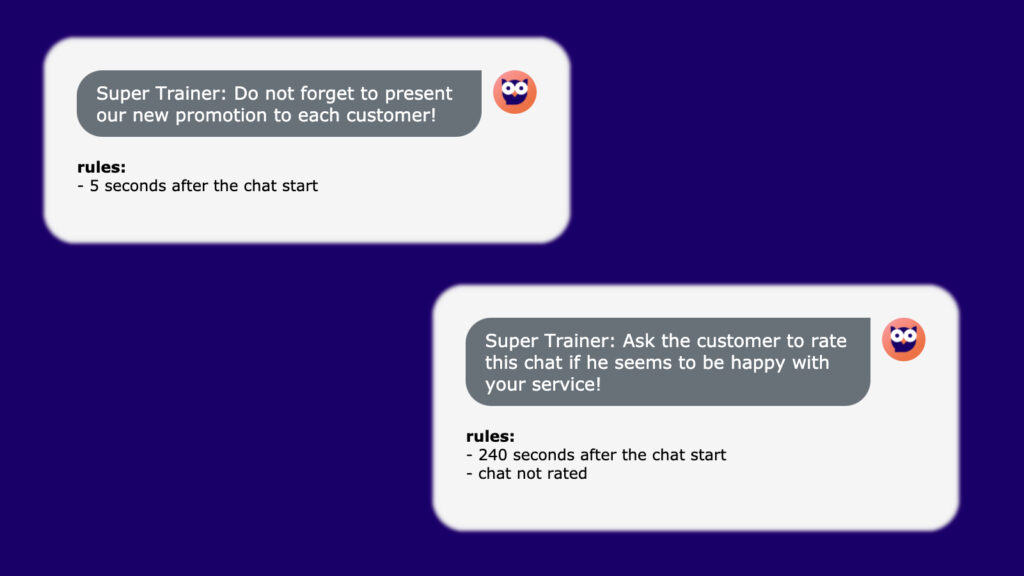 Remind your agents about every key issue with the Super Trainer personal assistant!
Manage all of the ongoing conversations even faster and be sure that your agents will never forget any important information. Help those who are conducting many conversations at the same time.
Super Trainer support is super-easy to use. Just set reminders based rules' conditions like:
⏱️ time since the chat started,
⌚ time since the last message when customer's message is the last one,
✅ chat rating,
⌛ specified hour and minute, weekday,
📝 given text present in the chat,
🗂️ contact data present in the chat,
🧑‍💻 presence of at least one agent's message,
💬 LiveChat group,
💬 message from Facebook Messenger channel. 
.BespokeChat – sales support and customer service for the real estate, automotive and other industries
👨‍💻 Programmable reminders
Be able to set dedicated reminders for different purposes thanks to the easy rules creator.
💡 Tips directly in the chat window
Be sure that your agents will not miss any information thanks to reminders displayed inside the chat. It's impossible to miss them!
➡️ Outside invisibility
Do not worry customers are not going to know that LiveChat agent is superpowered with Super Trainer reminders.
No more missing opportunities
Thanks to the Super Trainer you won't miss a single business opportunity and increase your customer satisfaction.
Higher chat quality
From now on, your agents will not forget anything important. Save your agent's time and be sure there is no need to contact the customer again to complete the missing information.
Handle more chats at once
Your agents can be even more efficient. Super Trainer is going to help you not to miss anything in any chat.
Is Super Trainer free?
Yes, Super Trainer offers a free version with core features that include dedicated reminders, easy setup, and outside invisibility. However, there is also a premium version with additional advanced features available for users who have more than 1000 chats a month.

Is the payment automatically deducted?
For the free version, no payment is required. You can optionally select a premium paid plan – this requires LiveChat users with privileges to manage LiveChat payments. For users who subscribe to the premium version, the payment is automatically deducted every month.
Will my plan be automatically upgraded after exceeding the limits?
No, your plan will not be automatically upgraded after exceeding the limits, you are just going to get an email notification informing you about exceeding the limit. If you are on a premium plan and wish to increase your limits, you will need to manually upgrade to a higher-tier plan.
Will I be notified when I am approaching my limit?
No, you are going to get a notification only when you reach the limit. You can check your current use inside the app.
What if the Business plan doesn't meet my needs?
If the highest-tier plan does not fully meet your requirements, please reach out to our support team under super-trainer-app@bespokechat.com. We may be able to offer customized solutions tailored to your specific needs.
Are all conditions available in all packages?
The free version of Super Trainer offers all conditions but one connected with selecting the LiveChat group to which reminders should be sent.
What are the limitations of the free plan?
The free plan comes with limited active rules, allowing you to have up to three rules at a time. Additionally, it works only for the first 1000 chats in the month and allows you to send up to 3000 reminders.
Will the unused limit carry over to the next month?
No, the unused limit from your current plan will not carry over to the next month. Monthly limits reset at the beginning of each billing cycle, so it's best to make the most of your available limits during each period.
We hope this FAQ provides you with all the necessary information about Super Trainer. If you have any further questions or require assistance, please don't hesitate to contact our support team. Thank you for choosing Super Trainer!
Visit LiveChat Marketplace and install Super Trainer

In LiveChat go to "Super Trainer" in the left menu using admin account

Authorize app so a bot is created that will send reminders to all users

Set a rule to prepare your first reminder

That's it! Rule is active right away!
February 2021 – the app is published

27.04.2021 – new conditions added, bug fixes

22.06.2021 – new conditions added, authorization flow simplified, bug fixes

01.10.2021 – added the ability to talk to the application's HelpDesk

12.01.2021 – added ability to agree to marketing consent to receive onboarding/marketing information. 
09.08.2022 – added the ability to select more than one group
2023/2023 – multiple new rules added
August 2023 – new interface and freemium model introduced
1. Introduction
These Privacy Policy ("Privacy Policy") apply to the use of the website and products provided by BespokeChat sp. z o.o. (hereinafter also referred as "we" or "us"). Our registered office is at Babiego Lata 13B/2C 53-020 Wroclaw Poland.
This Privacy Policy applies and has effect in respect of all services and other products, software, made available by us, as well as any other online features relating to the website and its content (the "Service(s)").
If you have any questions or comments about this Privacy Policy, please contact us at lc-apps@bespokechat.com.
We are committed to protecting and respecting your privacy. The Privacy Policy explains the basis on which personal information we collect from you will be processed by us or on our behalf. Where we decide the purpose or means for which personal data you supply through these Services is processed, we are the "controller". Where you decide the purpose or means for which personal data you supply through these Services is processed, you are the "controller". We will comply with proper and applicable data protection laws, including the General Data Protection Regulation 2016/679.
We encourage you to read this Privacy Policy carefully as it contains important information about the following:
What information we may collect about you;
How we will use the information we collect about you;
Whether we will disclose your details to anyone else; and
Your choices and rights regarding the personal information you have provided to us.
The Services may contain links to services owned and operated by third parties. We may also use some third-parties software or products to provide you with the Service properly. If we do so and provide third -parties of any personal data you can be sure the transfer is legal and secured. These third-party services may have their own privacy policies and we recommend that you review them. They will govern the use of personal information that you submit or which is collected by cookies and other tracking technologies whilst using these services. We do not accept any responsibility or liability for the privacy practices of such third party services and your use of these is at your own risk.
We may make changes to this Privacy Policy in the future. You should check this page from time to time to ensure you are aware of any changes. Where appropriate we may notify you of such changes.
2. Information we may collect about you
We collect and process the following information which may include your personal data.
Your name, last name, email address, device's ID, your user preferences as well as all the data (including personal data) you supply to us and information provided by you when using the Service or website. We may also store chat and thread IDs (chat / thread ID is string like QNMWTYQL7W – does not contain any sensitive data).
3. Collecting, processing and using personal data
Super Trainer is going to communicate with your LiveChat using API. The level of access to chats is a derivative of the user's rights set inside the LiveChat license. Chat conversations are processed by our backend to determine the realization of rules, but we do not store any of your information about the chats (including chat messages) externally except chat and thread ID (we do store them temporarily to make sure reminders are sent only once inside one chat – chat/thread ID is string – like QNMWTYQL7W – does not contain any sensitive data).
We do store e-mails of users using Super Trainer as well as links to sites on which chats were started for analytics purposes.
We only store and process your personal data when you have voluntarily supplied us with it such as by filling in a contact form or signing up to the Service. Your personal data will only be disclosed or otherwise transmitted if this is necessary to implement the contract, render our Services or you have given your prior consent.
Since we use LiveChat, Inc.'s Services you may be interested in reviewing their privacy policy available under the following links:
LiveChat`s privacy policy: https://www.livechat.com/legal/privacy-policy/
4. Why we collect information about you – purpose of processing
We will use information about you for delivering our Services to you under the terms of use agreed between us. The processing of information in this way is necessary for us to provide you the Service properly and to ensure the features function properly so that you have the best Service possible
5. Cookies and Web Beacons
We use cookies to make the use of our website easier for you. These cookies are used to store information including visitors' preferences, and the pages on the website that the visitor accessed or visited. The information is used to optimize the users' experience by customizing our web page content based on visitors' browser type and/or other information. Cookies may be opt-out by you and in case you do not accept cookies, this may lead to a limitation of functionality.
7. Geo-location data
In case geo-location is opt-in by you, please be aware we may have access to your geo-location data as we collect and process IP address of all devices using our Services. Collecting and processing your geo-location data refers to mobile devices as well as computers.
8. Children personal data
We do not collect personal information from anyone under the age of 18. If you notice we collect and process personal data of anyone under this age, please contact us. We encourage parents and legal guardians to monitor their children's Internet usage and to help enforce this Policy by instructing their children never to provide personal information through the websites or Services.
9. Data sharing
We will share your information (including personal data) with third parties only in the ways that are described in this Privacy Policy.
Personnel, suppliers or subcontractors: We keep your information confidential, but may disclose it to our personnel, suppliers or subcontractors insofar as it is reasonably necessary for the purposes set out in this Privacy Policy. However, this is on the basis that they do not make independent use of the information, and have agreed to safeguard it.
Required by law: In addition, we may disclose your information to the extent that we are required to do so by law (which may include to government bodies and law enforcement agencies); in connection with any legal proceedings or prospective
10. Data transmission
Your data is transmitted safely by using encryption. We secure our website and other systems with technical and organizational measures against the loss, destruction, access, change or dissemination of your data by unauthorized persons.
11. Your rights
You have the following rights over the way your personal data are processed.
To make a request, please let us know by sending an email to lc-apps@bespokechat.com.
a) You have the right to request a copy of the personal information we process about you and to have any inaccuracies corrected.
b) You can ask for supplying, correcting or deleting personal information held about you.
c) You can ask us to restrict, stop processing, or to delete your personal data.
d) You can withdraw your consent for data processing.
e) Obtain a copy of your personal data, which you can use with another service provider
f) Make a complaint to a Supervisory Authority.
12. Changes to this privacy policy
This Privacy Policy may be updated from time to time. We encourage you to review this website for the latest information on our privacy practices. If there are any material changes to this Privacy Policy, you will be notified by posting a notice on the website prior to the change becoming effective. If you do not accept any changes made to this Privacy Policy, please discontinue the use of the website and the Services. This Privacy Policy has been created with the help of Privacy Policy Generator.